Description
Emerald Crab for sale
A great scavenger, the Emerald crab for sale will keep your tank clean and spiffy! Cute and super energetic, this little work horse of a crab will do all you need to keep the cleaning crew in check.  Often the most important part of the clean up crew, the Emerald is one of the staples of many crews.  Responsible for keeping your aquarium clean is just one aspect of this funny little green emerald crab.  Emerald green in color, these guys are just cute.  Their workhorse attitude included.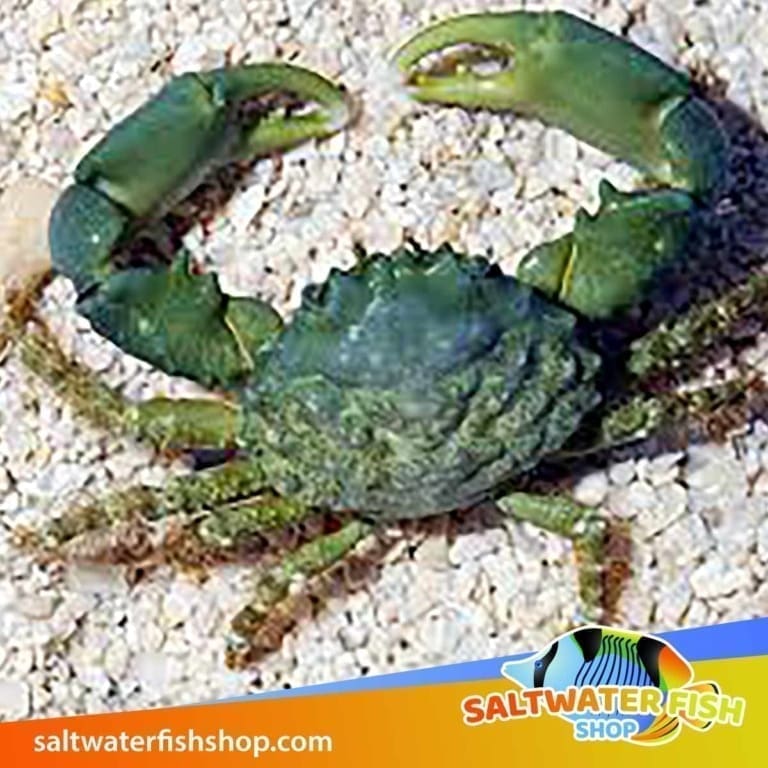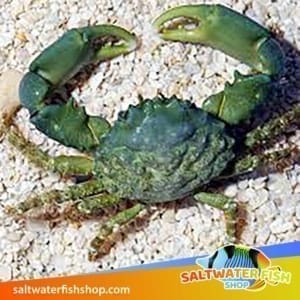 Diet & Feeding
It will enthusiastically chow down on uneaten waste and foods and many types of nuisance algae. Unlike many other aquarium inhabitants,  Mithraculus sculptus will eat bubble algae and helps clean your aquarium clear of this and many other algaes.  Its distinct, flat shiny green body and hairy legs easily identify the Emerald Crab.
Emerald Crabs natural habitat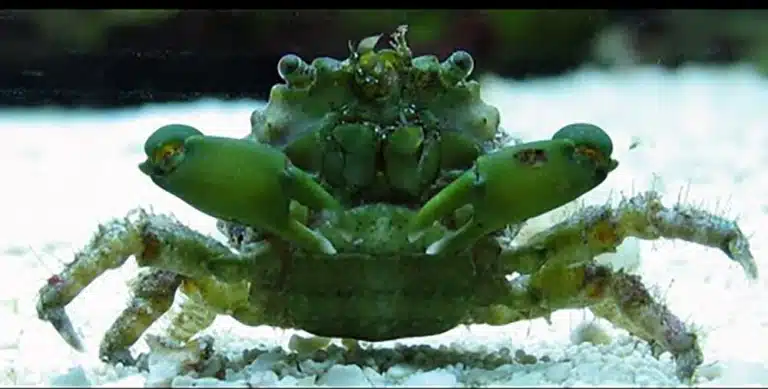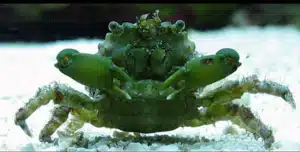 In the wild, you will find emeralds native to the reefs of the Caribbean.   Always being careful, the Emerald is nocturnal and hides in caves and amongst rubble during the day. In the home marine aquarium, this member of the Majidae family requires a well-established aquarium with plenty of rock work and hiding places. Once familiar with its surroundings, the Emerald Crab will venture out of hiding during the day to forage on algae.
Feeding your Emerald Crab for sale
Care needs to be taken to ensure an ample supply of food is available for the Emerald Crab. Many aquarists supplement the Crab's diet with dried seaweed and chopped meaty foods, such as shrimp, as well as a quality pellet fish food.
Otherwise, this opportunistic feeder may turn to corals, invertebrates, or small fish for a food source. However, when well fed, most Emerald Crabs are very tolerant of their tankmates and highly compatible in reef environments. Like other invertebrates, the Emerald Crab does not tolerate copper-based medications or fluctuatin
Different types of Reef hermit crabs for sale
There are many, may types of saltwater reef hermit crabs available including many vivid colors like the electric blue hermit crab.  Other varieties of hermit crabs for sale include the blue legged hermit crab all the way to the bright orange and larger bodied halloween hermit crab, there is just a ton of variety to choose from.  Within the color and size range is also a range in diet and activity.  Choosing a hermit that will not bother other inhabitants of your saltwater marine fish only or reef aquarium is important.  Keeping hermits with starfish for example can be an issue if they decide to munch on your stars.
Emerald Crab