Description
Tiger Pistol Shrimp for sale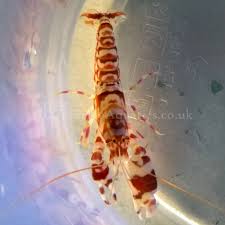 The partnership between tiger pistol shrimp and gobies is a good example of commensalism, where both parties in the relationship benefit. The goby benefits from the shrimp's digging and construction skills, having access to a well-built burrow. Tiger pistol shrimps are known for having very poor eyesight.  For this reason, they use gobies as an early warning system to detect danger from predators.
Tiger Pistol Shrimp and Goby Relationship
Gobies tend to hover just outside the shared burrow, catching passing zooplankton or small benthic invertebrates. In many cases the tiger pistol shrimp for sale maintain contact with the gobies by using their long antennae, and the gobies signal to the shrimps using specific fin flicks. Interstingly, species of goby also appear to feed their shrimps, spitting food into the burrow.  Also, they even without such deliberate actions it's possible that the shrimps may feed on small pieces of food that the gobies drop.
Tiger pistol shrimp are very popular to keep in marine reef tanks as well as invert safe fish tanks.  Mostly because they are very easy to care for, and they keep the bottom areas clean naturally beings they are scavengers. Also, tiger shrimp for sale scavenge left over food, dead snails and other animals. Since banded coral shrimp are reef-safe, they are always thought to be a valued member of any marine clean-up crew.  Another fish with the name tiger would be the tiger jawfish and the tiger goby.
Tiger Pistol shrimp
Purchase Size: 0.6″-1.75″ long
Max Size: 1.95″
Water Parameters: 71-79° F, dKH 8-12, pH 8.3-8.6, sg 1.022-1.026
Color: Pink/off-white with red striations
Marine Reef-Tank Safe: Yes
Diet: Omnivore. banded coral shrimp do not require supplemental feeding so long as you are feeding your fish. As scavengers, these shrimps will wander the live rock in your reef aquarium searching for food in the name of left over, or waste matter.  Lastly, if the animal requires food beyond clean up duties, offering it meaty frozen food as well as normal pelleted fish food is fine.
Species of Marine Shrimp for sale include: